Don't want the hassle or expense of setting up an in-house program for monthly viable sample analysis?
USMS can provide all you need for a successful monthly sampling program. We are an ISO 17025 accredited, CGMP compliant laboratory with years of expertise in pharmaceutical microbiology, with an on-site doctoral-level microbiologist. We comply with all industry relevant guidance including USP <797>, USP <1117>, and CETA CAG-009.
We offer a convenient Monthly Surface Sample Kit that includes everything you need for surface sample collection and shipping.  We provide USP compliant media - tryptic soy agar with lecithin & polysorbate 80 (TSA LP), triple bagged, gamma irradiated, room temperature storage and shipping.
We also offer the Enverify Sampling Competency Kit to evaluate surface sampling competency and performance. Determine how you compare with others in your industry and receive a performance report with pass/fail criteria.
One price includes:
Surface sampling kit (media, shipping box & label, instructions, tape, sterile bag for sampled plates)
Tryptic soy agar (TSA) with lecithin and polysorbate 80, triple-bagged, gamma-irradiated
Sample analysis & genus identification of failing counts
Negative and positive media controls (inoculated w/ five USP ATCC organisms)
Shipping (outbound & inbound)
Media certificates of analysis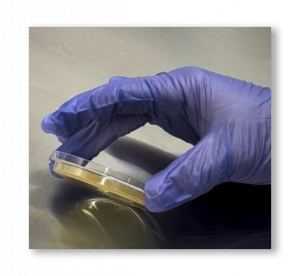 Order Your Kit Today using the form below.